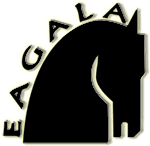 EAGALA stands for Equine Assisted Growth and Learning Association. The program at Highland Stables has participants join together for a journey of personal growth, interacting with horses to learn more about themselves. Sessions will be facilitated by Margaret Gill, equine specialist at Highland Stables, and Mary Englert, LPC. Sessions take place in an arena. Wear closed toed shoes or boots and dress in layers if needed for the weather. Additionally, you may watch these two videos to learn more about EAGALA.
Equine Assisted Leadership Training
Join the horses and our facilitation team for a unique leadership development program using equine assisted learning (EAL). EAL is a guided method that can propel an individual, a work team or management group to reach higher levels of effective and clear communication.
Horses are important members of our facilitation team because they mirror conscious and subconscious behaviors providing instant, non judgmental feedback and the opportunity for exploration of self and team in transforming and building skills.
Highland Stables works with Mary Englert who is a counselor and also Eagala Certified. You can find out more by contacting the stable or speaking with Mary.
Mary's contact information: